For a fast and uncomplicated exchange we recommend you to use our SHA-2 exchange website.
Please click on the following link https://www.psw-group.de/ssl-austausch/ to go to our exchange website.
In order for us to exchange your SSL certificates, we need your order number, a new CSR and the confirmation address.
Where can I find my order number?
You can find the order number on your invoice.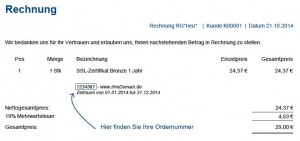 Or
You will find the order number in your order confirmation.